Our Board
The Ferndale Housing Commission Board is appointed by the Mayor of the City of Ferndale to serve staggered five year terms. The board meets the second Wednesday of each month, and more often as needed. The board is charged with overall governance and oversight of the commission, and it appoints and directs the Executive Director.
Jennifer Bentley
Board President
Jennifer Bentley is an accomplished attorney specializing in investigations of public fraud and corruption. She brings vast expertise in ethics and public accountability to the board, and contributes extensively to the agency's policy development work.
Reginald Sutherland
Board Vice President
rsutherland@ferndalehousing.com
Reggie Sutherland has a history of advocacy and excellence in customer service, largely in hospital and public sector settings. He has proven himself a successful consensus builder, and is a natural at bringing people together to resolve challenges in a positive way.
Deanna Wiltse
Commissioner
dtartaglia@ferndalehousing.com
Deanna Wiltse is a skilled social worker specializing in serving those who are homeless or vulnerable to homelessness. Her passion for community service brings incredible warmth to her work with the board. She makes for a fantastic advocate for those we are entrusted to serve.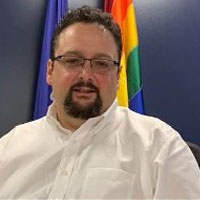 Daniel Martin
Commissioner
Mr. Martin was elected in 2011 to Ferndale City Council, where he served as council liaison to the FHC until December, 2019. Beyond his service on City Council and as Mayor, Mr. Martin has been an unparalleled champion for the Ferndale community, serving on the Ferndale Community Foundation Board, Ferndale Youth Assistance, Michigan AIDS Coalition, Police and Fire Board, and the Arts Commission. His experience with FHC, unwavering commitment to the community and its affordable housing goals, and educational background in Public Administration make him an exceptional board member.
Donnie Johnson
Commissioner
Donnie has been an active volunteer in the Ferndale community for years. He has a background in public sector budgeting and finance, along with two Master's degrees and a law degree. His work in the City of Detroit capital and blight remediation budgets provides an excellent context for his service as a Commissioner.